Industrial Pipe Distributor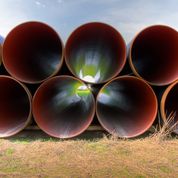 Worldwide Pipe Inventory
Worldwide Pipe & Supply maintains an inventory of standard and special grades of seamless and welded pipes to meet your project needs quickly and reliably. No matter what industry you're in, Worldwide Pipe & Supply can provide the materials you need, including ASTM, ASME, API, UNS, SB, DIN, and JIS.
The Worldwide Pipe Advantage
With more than 100 years of combined experience, vast industry knowledge, competitive prices, the ability to procure hard-to-find products, and fast delivery, we help you complete your projects on time and on budget.
Industries Served
Our range of standard and special grade welded and seamless industrial steel pipes are distributed to a wide range of different industries including:
Oil & Gas
Petrochemical
Alternative Energy
Subsea Drilling
Construction
Mechanical
We can also provide you with any of the special services you need to ensure your special project requirements are met, including threading, fabricating, coating, and logistics. We also offer galvanizing services for all of our steel products. Galvanized steel pipe, fittings, flanges, and other products tend to cost less and last longer because of the protective coating applied on the steel.  
Global Shipping Capabilities
At Worldwide Pipe, our goal is to be your 'one vendor, one solution' which is why we offer global shipping by maintaining an extensive inventory in our warehouse in Houston, Texas. With access to one of the largest shipping ports in the world, we are a leader in international pipe supply, letting us ship your order fast to anywhere in the world.
Worldwide Pipe distributes Seamless Pipe in Carbon, Stainless, Chrome Alloys, and Nickel & exotic grades.
Read More »
Worldwide Pipe is a worldwide supplier of Welded Pipe in Carbon, Stainless, and Nickel Alloys.
Read More »
Seamless Vs. Welded Steel Pipes
     What is a Seamless Steel Pipe?
A seamless steel pipe is a tube, or circular pipe, that does not have a welding seam or a welding joint. Seamless steel pipes are chosen for projects that require the ability to withstand pressure, uniformity of shape, and strong under loading. Worldwide Pipe provides Seamless Steel Pipe in Carbon, Stainless, Chrome Alloys, and Nickel & exotic grades.
     What is a Welded Steel Pipe?
A welded steel pipe is a circular steel tube that is formed by rolling steel plate and welding the seam. This process makes welded steel pipe more cost effective because it is easier to customize, and this type of pipe is more readily available. There are two categories of welded pipes: ERW and DSAW pipe. ERW stands for "Electric Resistance Welded", and DSAW stands for "Double-Submerged Arc Welded". These two differ because the welding process for ERW pipes is continuous as opposed to the welding of distinct sections at intervals. Worldwide Pipe supplies welded pipe in Carbon, Stainless, and Nickel Alloys.
Use our pipe weight formula calculator or Barlow's formula calculator to help with your piping project needs.
Ready To Learn More?
Contact us today to speak to a representative or give us a call at 888.903.3433