Stainless Steel & Carbon Steel Pipe Fittings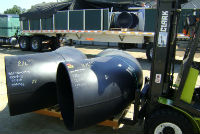 Worldwide Pipe supplies a wide selection of butt weld fittings, forged fittings, flanges, nipples, and outlets. Pipe fittings in carbon, stainless, chrome-moly, and nickel alloys.
Adapters and tube fittings in stainless steel, brass and other materials for oil & gas, petrochemical, power, pulp & paper and other applications. As a stainless steel and carbon steel pipe fitting supplier, we offer industrial pipe fittings that will meet your project needs.
At Worldwide Pipe & Supply, we strive to be your 'one vendor, one solution' which is why we offer global shipping and an extensive inventory in our warehouse in Houston, TX. With access to one of the largest shipping ports in the world, we are a leader in international pipe supply, allowing us to put together your entire project and ship it to your closest port.
 Contact us to speak with one of our experienced staff, who can help you with your project needs.
Ready To Learn More?
Contact us today to speak to a representative or give us a call at 888.903.3433